Grief is hard. It is painful to not only go through the loss of a loved one (two legged or four legged) but then to be expected to function as well as before the loss! Impossible? Yes, it is possible, but it is not easy.
Grief is a natural reaction to loss but often it can knock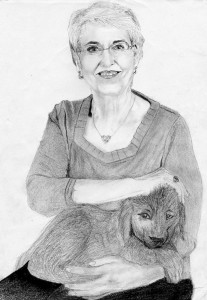 us on our fannies and prevent us from functioning in life. Grief and loss can affect how we act and react to work, family, faith community, and the world in general.
A loss in your immediate family can be devastating for the individual members as well as the family unit. Each member of the family may go through their own healing journey at their own pace and in their own way.
Be aware that family roles may shift, change and disappear after a death in the family structure. Don't assume that everyone is going to be going in the same direction as the other members. There may be some remnants of anger, frustration and resentment from unresolved issues.
It is important to remember to be sensitive to other people's feelings. We are all raw and vulnerable when our hearts have been broken.
I know this because I have had a number of deaths in my family and circle of friends. As a volunteer in Hospice and researcher for my books I have come to an understanding of the power of grief and some ways to cope.
Today, let's have a look at what grief and loss feel like. Tomorrow we will talk about "What Healing Feels Like."
What Loss Feels Like
Along with this deep hurt and hole filled with pain, depression and sadness there may be other reactions to the loss of a loved one.
Feeling helpless, fearful, empty, irritable and restless.
Unexpressed feelings of guilt and regret keep running through your mind.
Lack of ability to concentrate or focus on anyone project or conversation
Changes in appetite, sleep patterns or sexual drive.
You may have incidents of anxiety, panic and fear.
You may feel physically ill and prone to colds, flu and viruses.
Fatigued, clumsy and more error prone
Tears come easily and unexpected sobbing may occur.
Anger and misplaced rage at God, family, society, other people and self.
Searching for a meaning on why this happened to you? Continually asking why?
A sense of time distortion. Perhaps forgetting what day or month it is.
Many people have compared grief to recovering from a major surgery, except your wounds don't show.
It feels that you "are going crazy." You are not going crazy, but crazy feelings are very normal in grief.
You may very well feel that you are all alone in your grief. You may feel that no one will ever truly understand the depth of your pain
Join our community 
Please join us in a community of kind, thoughtful people who want respect for all creatures, two and four legged.  We offer support, solutions and safety. Claim your free book by joining us at www.deathofmypet.com You will always be glad you did.
Judy Helm Wright is an intuitive wise woman who loves unconditionally.  Trained as a family relationship coach and Hospice, she has combined her talents and skills to become a Pet Loss Coach.  The website www.deathofmypet.com offers grief recovery support and memorial "tribute books" for animals and humans.  Contact us today.