How do caring adults assist young children or teens to cope with a death of a beloved pet or loved one. Perhaps the question is: how much do children understand about the process of death, and as adults what do we want to share with them? This may bring up issues in our own life we have never dealt with. The evidence is in that children need to be involved and talked with about illness, death and what we believe happens after death. Children who have been allowed to participate in the care of loved one, including hospice care at end of life, are better prepared later in life when losses of any kind occur.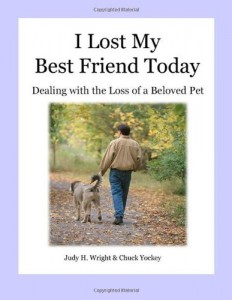 Loss of a Pet
For many children the first death they may witness or participate in, is the death of a pet. When I was researching for my book "I Lost My Best Friend Today" it was humbling to hear the stories. Many adults said they mourned more over the death of their pet than the loss of their parents. Many also reflected back to childhood and the way that death or loss was explained by the adults in their lives.
Feeling The Emotions
One of the participants in a recent workshops shared that her father had said to her when she cried when her dog was struck by a car; "Suck it up, children don't have emotions till they are 18. Until then you feel what I tell you to feel." As an adult ( and naturally resentful) she honestly does not know how to express emotions, especially around grief issues.
Feelings and emotions are like a river. If we stuff them up or block their flow, our emotional stream becomes stagnant, dirty and full of garbage. Eventually the flood will break through. If it builds to the point where it explodes, it causes disaster and chaos.
When children are not only allowed but encouraged to fully feel their emotions and have their questions answered honestly, they feel valued and validated.
Ask Them How They Feel and What They Think
Parents and caring adults will recognize that death and illness has an impact on the whole family. By honoring the thoughts, fears and anxiety of the children by truly listening to them is an important way to include them in the process.
As an adult, you may be amazed at the kind and thoughtful responses which the children will share when asked. They are looking at the illness or death from a different perspective and will give options which are not colored by bills to pay, doctors to see and jobs to manage.
Questions to Ponder
How did you learn about illness and death?
Is there a certain age when you feel children should attend funerals?
What do you feel are the emotions a child may have when someone they loves dies?
Are you aware that some children (and adults) cover fear with laughter or silliness?
It is important for children to be involved with the conversations surrounding the death or illness of a loved one. Honest sharing of emotions will help all parties to cope and understand what is going on. The anxiety level of the children will be greatly reduced when they are involved in some way.You will want to go to http://www.UseEncouragingWords.com for a free ebook on words and phrases to help yourself and others towards positive action. You will be so glad you did.
Thanks for joining our community of caring parents, family members,coaches, teachers and mentors who want to help raise a generation of responsible adults who respect others.
Judy H. Wright is a certified Pet Grief Coach and can assist you in the mourning of your best friend. Contact her at www.judyhwright.com  You will be glad you did.
You have permission to reprint this article in your blog, ezine or offline magazine as long as you keep the content and contact information intact. Thank You.