Dear friend,
I wonder if you can relate to some experiences I have had…
Was the decision to euthanize your pet one of the hardest things you've ever done?
Do you have an old or terminally ill pet who you cannot stand the thought of losing?
Do you find yourself denying the inevitable or wondering how you will ever be able to handle the loss when they are gone?
Is your child struggling to understand the death of their pet?
Do you wish you could find the words to comfort a grieving friend or family member who lost a beloved pet, but you don't know what to say to show your support without appearing to trivialize their pain?
Did the loss of your animal best friend trigger unhappy memories or unresolved conflicts of loss from years ago?
Did you find that you were more upset over losing a pet, than losing a parent or relative?
I know that pets are more than just animals… they are our closest friends, constant companions, and integral members of my family. My family has always had pets who were important members of our "tribe."
"I can't share how sad I am about my dog, because my co-workers will think I am crazy. But, on the other hand, I inquire about their child's cold and buy their stupid Girl Scout cookies to support them.  It isn't fair!  Oh God, please don't let me start crying at work again.  I heard someone call me a drama queen and say; It's only a dog, not a child.  I just need someone to acknowledge my sadness."
Are You Lonely, Sad, And Depressed From The Death Of Your Pet?
These Feelings Are Perfectly Normal,
And You CAN Find Peace Again…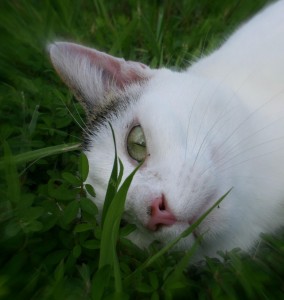 I know this because not only have I had a number of deaths in our family, but have volunteered with Hospice and done much research in the grieving process.
Do you view your pet as a member of your family, your closest friend, and constant companion?  Our pets help us to be better people. They bring us a level of love that can never be replaced, just as their personality can never be replaced.
If you or someone you care about has pets, there will be a tremendous sense of loss when that pet dies or has to be euthanized.
Each day with our pet is special and brings joy to both the owner and the owned (sometimes it is hard to determine who owns who, do you agree?).
I am wondering if you can relate your feelings to those that my family felt about Taffy;
Loneliness – Taffy had been a part of our family for many years.
Anger – She was such a good dog, why should she have to suffer the indignities of old age, incontinence, arthritis, and blindness?
Helplessness – No matter what we did, we could not make her comfortable.
Guilt – We were all so busy and there were many days she had to stay alone.  She would look at us with such sad eyes when she had accidents on the carpet, but we knew it wasn't her fault.
Sadness – We are all going to genuinely miss Taffy.
Depression – Life just wouldn't be  the same without her.
Worried – That getting another dog would be disloyal to Taffy.
Relieved – That she would not have to suffer anymore.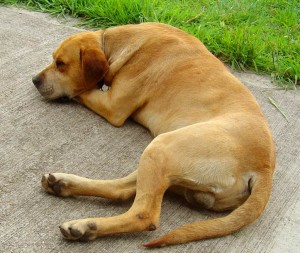 Can you resonate with those emotions?  If you are nodding your head in agreement, you are going to be so glad you are reading this letter…
No one wants to lose their pet. No one gets an animal anticipating the death of that companion. But the fact is, pets are lost to accidents, disease, old age or they simply wander off and never come home. It's finding ways to deal with the grief that will help you during the difficult time of losing your best friend.
"I Cried More Over Losing My Pet Than I Did When My Mother Died"
I have heard more than one person say this and it is actually very common to hear in grief sessions.
Animals tend to give us unconditional love.  They don't care whether we won the game or got a raise or …
As with all relationships, the deeper the relationship the greater the grief and feelings of isolation and sadness we feel when that relationship ends.
This relationship may not be understood by those who de-value the friendship and love you shared with your animal.  For instance, one of the contributors to this book recalls being told to "Get over It. It was just a cat, not a child.
Co-workers may not only misunderstand your sadness, but urge you to hurry your grief. They cannot even imagine what an empty place in your home and heart that a pet loss causes.
That's Why I Put Together This Resource Site and a 153-Page EBook, to…
Help You Stop the feelings of guilt and regret and start honoring your pet.
Bring peace to your suffering by reading stories, insights, and advice from others people who love their animal friends.
Show you ways to teach a child about death in a way that will give them life-long resilience and understanding.
Show how to face the difficult decision to put your pet to sleep and the often mixed emotions of sadness, guilt, and regret that you feel afterward.
Give ideas and suggestions of ways to honor the memory of your pet forever.
Provide the right words to say to comfort a friend or loved one when they are grieving.
Help your surviving animals deal with the loss of their companion.
Help an elderly friend or relative deal with the illness or passing of their pet and closest companion.
Help your child understand the loss of their pet and best friend while teaching them lessons about death that will last a lifetime.
Help you relate to others who have experienced a similar loss by reading their stories and learning about the relationships they had with their pets.
Provide comforting poems and quotes.
Give guidance through the grieving process and learn steps that you can take to help yourself (or a loved one) heal.
Help You Get rid of feelings of guilt or regret that may come with having to euthanize your pet, or not being able to save them.
Provide tips and suggestions of ways to help keep the spirit of your beloved pet alive.
Why This Ebook Is So Special…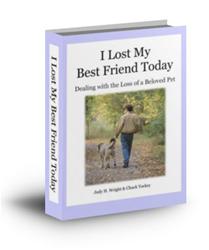 When Chuck, my friend, and I set out to gather stories of pet lovers who had lost  their best friends, I never expected the outpouring of sharing.
I posted a request in a few blogs and asked for stories about pet loss and the stories, photos, poems, quotes and letters started pouring in.
So many of the entries started with the same thing "Thank you for asking about how I felt losing my  dog, cat, turtle, horse, lizard, etc."
This was the first time many of the authors had put their pain and grief into words.  They cried when writing them and I cried reading them.
The love you feel for a pet is so unconditional and deep. Only someone who has loved and lost a pet can relate to how it feels.
"It was so therapeutic to be able to share a story with someone who could understand the loss of my best friend."
I Can't Take the Next Step For You
I am reaching out to you. And I am giving you my guarantee. The only thing left for you to do is to give this ebook a try. See if you like it. See what it has to offer you. There is something for everyone in this book, and I am confident you will find just the thing to get you on the road to healing.
I believe in you and I believe in the power of stories to change lives.